Insurance And Water Damage
People are often confused about homeowners insurance and water damage. You might assume your insurance will cover the cost of any water damage your home sustains, but that is probably not the case. It will depend on your policy, but usually whether or not water damage is covered depends on the cause of the damage.
If you've experienced water damage in your home, make no mistake about it. It's important to get it cleaned up as quickly as possible to prevent the growth of potentially hazardous household mold. Exposure to mold in the home can lead to numerous medical problems and mold can also cause significant damage to your home.
We'll tell you what to expect from your insurance company if your home has sustained water damage and how to get help with a water damage insurance claim. We'll also tell you how to get help cleaning up and repairing any water damage to your home, promptly and properly. It can be a big job but you don't have to do it alone.
Homeowners Insurance and Water Damage
According to American Insurance Association (AIA), about 20 percent of all homeowners insurance claims have to do with water damage of some kind. Water damage to your home can be expensive to repair. Homeowners often assume water damage from any cause will be covered by their homeowners insurance policy, but that's usually not the case.  
Water damage may be caused by many different things, including natural disasters, fires (the water damage is caused by putting out the fire, not by the fire itself, of course), leaky pipes, bursting pipes, frozen pipes, other plumbing problems, or a leaky roof. Homeowners insurance policies typically cover some of these things but not all of them.
Coverage may vary according to your policy, but homeowners insurance typically doesn't cover routine home maintenance, like repairing a leaky pipe or a leaky roof, and it usually won't cover water damage resulting from things like that, either. Homeowners insurance usually does cover disasters like a fire, however, and also any water damage caused by putting out the fire.
Floods cause a great deal of water damage, of course. Homeowners are sometimes surprised to learn their insurance policies don't cover flood damage. If you want to be protected in the event of a flood, you'll need to purchase flood insurance in addition to your regular homeowners insurance. You can follow this link to learn more about flood insurance for homeowners.
We encourage you to find out what your policy does and does not cover before a problem occurs. Discuss your needs with your insurance agent and make sure you have the coverage you need.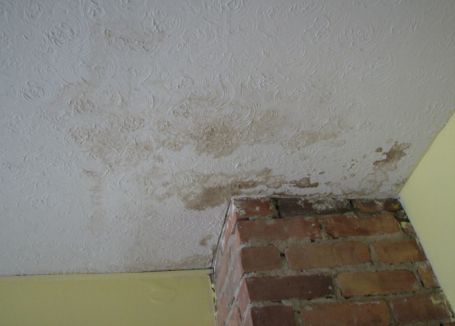 Water damage to ceiling from leak
Renters Insurance and Water Damage
If you rent a home or apartment, we hope you have renters insurance. If you don't, we encourage you to look into it. Your landlord should have insurance that covers damage to the building itself but that insurance probably won't cover damage to your personal property. For that, you need renters insurance. It's an affordable way to protect your belongings in the event of a disaster.
Like homeowners insurance, renters insurance usually only covers water damage when it is caused by certain things. Read your policy carefully, paying close attention to any exclusions, and ask your insurance agent if you have questions about your insurance and water damage coverage.
Know that like homeowners insurance, renters insurance usually does not cover flood-related damage. If you want to be protected in case of flooding, you'll need to purchase additional flood insurance, which is available for renters as well as for homeowners. Talk to your insurance agent for more information. You can also learn more about renters flood insurance here.
For Help with Your Water Damage Insurance Claim
If you need help repairing water damage, we encourage you to consult with an experienced water damage contractor. It's important to make sure the damage is repaired quickly and correctly, in order to protect both your home and your health. If you have questions about whether your insurance policy will cover the water damage, we encourage you to contact your insurance agent. Even if you think your policy won't cover it, we suggest filing a report right away just in case it might be covered. A professional water damage contractor can help you file a claim with your insurance company. To get a list of experienced water damage contractors in your area, just follow the link provided.
Return From Insurance And Water damage To Our Main Water Damage Page