Family Suffering from Allergies? Why Mold Might be to Blame 
If your family deals with allergies inside of your home, it's time to take inventory and try your best to mitigate this issue. These allergies can be more than simply troublesome, they can aggravate your respiratory system to the point that you find it difficult to breathe and otherwise enjoy your life. With this in mind, it is important to realize that mold could possibly be the culprit.
Signs That You Are Dealing with Mold Allergies
You Are Sneezing and Coughing
Continuous coughing and sneezing may be more than just a simple cold. If you are dealing with these symptoms on an ongoing basis or for more than a week, the cause may be a mold allergy. When exposed to mold, it won't be long until your throat gets scratchy and your nasal passages are irritated.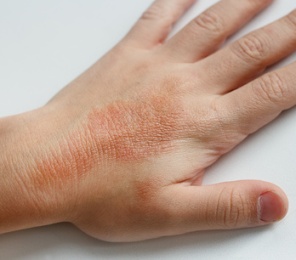 You Break Out Into Skin Rashes

Skin rashes are a big possibility if you ever happen to come into contact with mold. That is why mold remediation experts always wear gloves and other forms of skin protection when working to control spores. These skin rashes often start on the hands, but they can spread quickly to the trunk of the body and even the face and scalp. You will need to consult your doctor as quickly as possible in order to receive a prescription to help prevent it from becoming worse. The rash may be red and typically involves raised bumps and mild to severe itching. 
Your Eyes Are Red and Watery
When your eyes are becoming watery and red, you need to be mindful of how long it lasts in order to see if it is an allergic reaction. Black mold spores cause your eyes to itch over time, and they will be incredibly sensitive to your environment. Your doctor will prescribe you allergy medicine and eye drops that you will be able to use in order to get rid of the red eyes and irritation. 
How Can I Find Mold In My Home?
If you suspect a mold allergy, reach out to a mold remediation contractor who can help. The contractor will take scrapings and air samples in order to determine if mold is present, isolate the areas impacted by mold and give you an accurate assessment and estimate to repair the problem. 
Sometimes, issues are easy to remedy, and at other times, more extensive damage requires more extensive work. Black mold may be easy to remove with a simple scrub using a highly concentrated bleach solution, or it could be so extensive that ripping into the drywall becomes necessary. You may need to relocate on a temporary basis to allow the mold company enough time to mitigate the issue. The extent of the damage is almost always directly related to how fast problems are addressed, so saving your pocketbook is another good reason to call in a professional sooner rather than later if you suspect mold. 
For a list of local mold remediation professionals that will come to your home and give you a free home analysis, just follow the link.
How Can I Keep Mold Away
In order to keep your home free of mold, one of the best things you can do is keep the humidity under control. You would do well to keep your humidity levels at 50 percent or below throughout the day. This can be done by activating the dehumidifier settings on your air conditioner or purchasing a separate dehumidifier to run constantly inside of your house or in particular rooms, a basement for example. It's also a good idea to keep your home ventilated as much as possible. Use the proper cleaning products if mold is spotted. Endurance BioBarrier and peroxide are two good options. If you are painting a damp area such as a bathroom or basement, purchase paints or primers that contain mold inhibitors inside.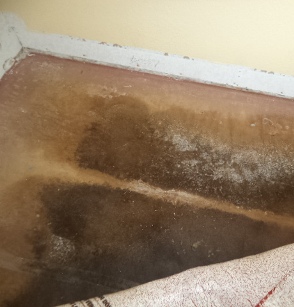 Mold under carpet
Proper ventilation is another important component in preventing the growth of mold in your home. Even routine, daily activities like taking a shower or boiling a pot of water can invite the growth of mold if your bathroom or kitchen are not ventilated properly. Any appliance that produces water or humidity needs to be vented to the outside. This would include a clothes dryer or stove, as two examples. 

Even when vented properly, remember that any debris clogging your vents will inhibit the proper release of the moisture, and this can act as an open invitation for mold. Check your vents regularly to prevent this problem, and have them professionally cleaned on at least an annual basis. 
Basements and crawl spaces can be a hot bed for mold growth because many homeowners fail to direct moisture away from their home. In a large downpour or even after a particularly rainy season, moisture can pool in the areas closest to your foundation, and this is an invitation for trouble. Prevent this by installing proper gutters, drainage and downspouts that take water away from your home. Make sure to also check these regularly to remove leaves and other debris that might cause them to work less effectively and allow water to get to close to your foundation. 
It is also critical that you keep up with your plumbing in order to prevent leaks and moisture. When moisture is allowed to sit for extended periods of time, it increases the likelihood that you will deal with and develop mold. This means that something as simple as a slow dripping line, leaky faucet or cracked pipe can lead to mold if the problem is left unchecked. Watch for problems, and when in doubt, call a plumber to take a look and make any necessary home improvements.
Here are more mold prevention tips.
Mold can be a problem if it gets into your home, but fortunately, preventing it is pretty easy. If mold growth should occur, it's always a good idea to call the experts so they can have a look and make proper recommendations for necessary remediation. Here you can get a list of local mold removal experts. Keep your home free of allergy causing mold to enjoy a higher quality of life and protect the health of your family and the environment you live in.
Return From Mold Allergies To Our Allergy Treatment Page

About the Author
Joe Crivello is the owner of AmeriDri, a company that specializes in water damage, fire & smoke damage, and mold remediation. AmeriDri is located in Colorado Springs, Colorado, is IICRC certified and has been in business for over 25 years.