Mold inspection companies
Are you wondering how to choose among the many mold inspection companies out there? Many people are worried about mold these days. As we learn more and more about the harmful effects of mold exposure on our health, it only makes sense that we want to make sure our homes are free of mold. We'll tell you when you should have your home inspected for mold and how to find qualified mold inspectors.
Should You Have Your Home Inspected for Mold?
We recommend having your home inspected for mold if your home has recently been flooded or sustained significant water damage, if you smell a musty odor characteristic of mold, or if you have symptoms of mold-related illness. If you've noticed mold in your home, you might wish to have an inspector come in to make sure you've found it all.

What Do Mold Inspection Companies Do?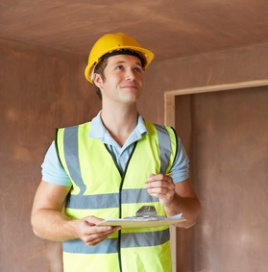 Obviously, a mold inspection company inspects homes for mold. Mold can grow in all sorts of hard-to-see places, like inside walls, under floors, and inside your home's heating, ventilation and air conditioning ducts. An experienced mold inspector can find the hidden mold in your home.  
Finding hidden mold is important because if you overlook any mold when removing mold from your home, it may spread, and can continue to cause health issues to anyone exposed. Even if you cannot see mold, it can make you sick.
In addition to looking for hidden mold, a mold inspector can test your home for mold.
The company doing the inspection and testing should not be the same company doing the mold removal work in your home. That would be a conflict of interest. You want the mold inspector to make sure that the mold removal company has done their job correctly.
Should You Have Your Home Tested for Mold?
It's not always necessary to have your home tested for mold. If you know there's mold in your home because you can see it's there, then there's probably no need to do a mold test. While mold testing can tell you what kind or kinds of mold are present (often there is more than one kind of mold in a home at the same time), you may not need to know what kind it is. According to the Centers for Disease Control and Prevention (CDC), all types of mold are potentially harmful and should be removed as quickly as possible.
Still, there are a few instances in which you might want to have your home tested for mold. If you suspect mold in your home but can't find any, a mold inspector can sample the air for mold to find out if there is in fact mold present. In some cases, a person might want to know what kind of mold is causing health problems, although in many cases, the treatment is the same regardless of the type of mold triggering the symptoms.
In addition, the U.S. Environmental Protection Agency (EPA) suggests having your home tested for mold after mold remediation has been completed, just to make sure all of the mold was removed. If mold is discovered during post-remediation mold testing, the mold remediation company should return to remove it at no additional cost to you.
You can talk with a mold inspector about the potential benefits of mold testing.
What Should You Look for in Mold Inspection Companies?
In most states, inspectors are not required to be licensed. So how do you know a mold inspector knows what he's doing? Ask about the inspector's training, experience and qualifications. Many inspectors are actually engineers, though an engineering degree is not required for the job. Most have undergone extensive training. You can also ask for references.
The Environmental Protection Agency recommends choosing a mold inspection company that follows the industry-recognized protocols established by professional organizations like the American Conference of Governmental Industrial Hygienists (ACGIH) or the American Industrial Hygiene Association (AIHA). Inspectors may also be certified by professional organizations such as the Institute for Inspection, Cleaning and Restoration Certification (IICRC). If a company representative starts spouting a bunch of initials, ask what they mean. Ask what an inspector has to do to be certified by a particular organization. Feel free to ask questions and to ask them to explain things to you in words you can understand.
Note that the Environmental Protection Agency does not certify inspectors or keep a list of qualified inspectors. The agency provides general information about mold inspections but cannot refer homeowners to inspectors.
To Find Qualified Mold Inspectors near You
Follow this link to find mold inspection companies near you. We've done our best to make sure all are qualified but we encourage you to ask questions and to request references. Please feel free to contact us if you have questions or comments.
Return From Mold Inspection Companies To Our Removal Guide
References: