Mold Resistant Paint
Mold resistant paint is an easy and effective way to reduce the risk of mold growth in your home, especially in areas that tend to be high in humidity and therefore prone to mold, like bathrooms and kitchens. Available in a wide range of colors from popular name brands like Sherwin-Williams and Benjamin Moore, this paint is fashionable and can be matched to any décor. Most of these paints are washable, as well, so they are suitable for use in high traffic areas. You can also purchase paints that resist mold designed for use on exterior surfaces. Nearly all home improvement and hardware stores carry them, as well as paint supply stores.
In order for mold resistant paints to be effective, they must be used properly. We'll tell you where and when to consider using paints that resist mold, as well as give you some tips on their proper use.

Where Should You Consider Using Mold Resistant Paint?
You can use paint designed to resist mold anywhere in your home. It's never a bad idea and it is available in a wide range of designer colors. However, some areas of the home are more prone to mold than others and those are the places where paints that resist mold can be most beneficial.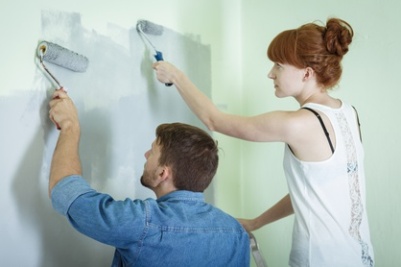 Mold and moisture-prone areas of the home include:

Bathrooms
Kitchens
Laundry rooms
Utility areas
Mud rooms
Basements
Garages
In addition to resisting mold, these paints will help prevent the buildup of mildew.
When Should You Consider Using Mold Resistant Paint?
The short answer is that you can – and probably should – consider using paint that resists mold every time you need to paint something. Whether you are painting a surface for the first time or repainting an area of your home, you can use a paint that will resist mold if you like. If you've noticed a problem with mold or excessive moisture in an area, painting it with such a product is a good way to help protect against mold, at least on your walls or other painted surfaces.
Note that you should never paint over mold, though. If mold is present, it is very important to thoroughly remove the mold before applying paint. Mold resistant paints will not kill mold. They only prevent new mold from growing.
Tips for Improving the Effectiveness of Mold Resistant Paint
For best results, follow these tips when painting an area with a product designed to resist mold.
Be sure to remove all traces of mold from a surface before painting it. Apply a fungicide according to the directions on the product. Clean the surface well and allow it to dry completely before applying paint. Follow these links for mold removal tips and to learn about products that remove and kill mold.
Do not add any type of mold removal product or mildew cleaning product to your paint. According to an article in the newsletter Paint Pro, homeowners sometimes think doing so will increase the ability of the paint to resist mold and mildew, but adding extra ingredients to paint changes its chemistry and can affect the color and performance of the paint. Instead of making it work better, it decreases its effectiveness.
If you have had a mold problem in the area you are painting, make sure you identify and address the cause of the mold. Mold typically develops in response to excessive moisture, so look for things like leaky pipes and leaky roofs and make any needed repairs right away. In areas with high levels of humidity, like bathrooms and kitchens, installing and using exhaust fans can help a lot to reduce moisture. You can find additional mold prevention tips here.
If You Need Help
Painting is often a fairly simple job that many homeowners prefer to do themselves, but it can be a big job depending on the size of the area to be painted. If you'd like some help with painting, you can find experienced painters in your area here. The painter can help you select the best type of paint for the job, too.
And if you need help removing mold before you paint, you can get a list of experienced mold removal professionals in your area. A professional can make sure all traces of mold are removed and can also help you find and fix the source of the excessive moisture that led to the mold growth. You can schedule a free consultation in your own home at your convenience. 
Return From Mold Resistant Paint To Our Prevention Page